Ruben Dario
Saturday, September 23 @ 4:30 pm - 5:30 pm
Saturday, September 23 @ 4:30 pm - 5:30 pm
Colombian guitarist, composer, and singer. Known for his innovative guitar compositions, harmonious melodies, and deep baritone/bass vocal style, Rubén Darío is a musical avant-garde. He has had extensive experience as a soloist and as a member of various groups in different musical styles, classical guitar, chamber music, Latin American rhythms, experimental, avant-garde, flamenco, traditional rumba, ballads, pop, and rock. As a classical guitarist and composer of eclectic music, Rubén moves and inspires audiences of all ages. His music combines spiritual, creative, and experimental styles.
Rubén began studying guitar at the age of 11. He apprenticed with the prestigious guitarist Pedro Ángel in San Cristóbal, Venezuela, and studied with many other guitar teachers in Colombia. Master of Musical Arts, graduated with honors from the ASAB Faculty of Arts of the Francisco José de Caldas District University (Bogotá, Col.). For more than a decade, from 2003-2013, Rubén was a member and co-founder of the Atemporánea guitar quartet, a renowned chamber group in Colombia. This group performed the original music of Rubén Darío from its origins to the present, his works continued to be part of the repertoire in the different auditoriums that Atemporánea performed, and it is also included in two musical productions of this quartet.
His presentations and music workshops have taken place in different festivals and venues in Argentina, Peru, Venezuela, Colombia, the Dominican Republic, Mexico, and the United States; His compositions have also been performed in other countries, such as Italy, France, and Germany.
In 2019 Rubén is invited to be part as a guitarist in "Disney in Concert: Coco", with the Nashville Symphony Orchestra, under the baton of the young conductor Enrico López-Yánez.
His production as a soloist entitled Hoy (2018), is a summarized, forceful whole, in the now, digestible and simple in any language. It is an album that was created in the United States, but that essentially collects the work of many countries and cultures absorbed in the particular course of life. In 2006, Rubén released his first solo CD, Artificios, with a very experimental and conceptual avant-garde language; then an album of popular South American songs from the early 20th century, called "The songs of papa Lolo" (2010), followed by two compilations of Latin American and European ballads recorded in 2012, Evocaciones I and II. Rubén has also been part of musical productions that include five compilations and two with the aforementioned Atemporánea guitar quartet. As a member and co-founder of the American group The Rumba Madre, a rumba flamenco fusion group, Rubén released the album Prisiones Y Fugas in 2020, being part of it as a musician, composer, and co-producer.
Rubén Darío brings his unique gifts to audiences looking for more than just entertainment. His classic Latin American songs evoke deep feelings of romance, nostalgia, and humor, while his contemporary songs invite you to step back and explore the very nature of love and life. Using his guitar, voice, and emotions, Rubén guides his audience on a journey of self-exploration and discovery, proposing new concepts and challenging established beliefs.
---
Details
Date:
Saturday, September 23
Event Categories:
Venue
Plaza Mariachi Music City
---
Related Events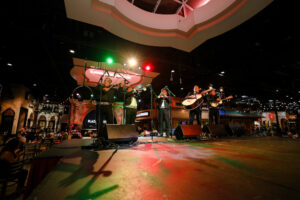 Sunday, December 3 @ 3:30 pm - 5:30pm
Sunday, December 3 @ 5:30 pm - 7pm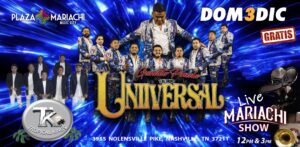 Sunday, December 3 @ 8pm - 10pm
---