Loteria Night
Wednesday, May 31 @ 6:00 pm - 9:00 pm
Wednesday, May 31 @ 6:00 pm - 9:00 pm
¡Hola amigos! We are thrilled to invite you to our weekly "Miercoles de Lotería" at Plaza Mariachi! Join us every Wednesday evening from 6 pm to 9 pm for a fun-filled night of Lotería, the traditional Mexican game that has been capturing hearts for generations. This event is FREE to play and offers you the chance to win fantastic prizes!
Lotería is a colorful and exciting game, similar to Bingo but with a unique Mexican twist. Players use beautifully illustrated cards featuring traditional Mexican symbols instead of numbers. As the caller announces each card, participants mark the corresponding images on their boards. The first player to complete a predetermined pattern, such as a row or column, and shout "¡Lotería!" wins the round!
What to expect:
Friendly atmosphere for both experienced players and newcomers
Exciting prizes for the winners
Optional snacks and beverages available for purchase
Don't miss out on this fantastic opportunity to experience a beloved Mexican tradition, meet new friends, and try your luck at winning amazing prizes! Bring your family and friends, and let's have a memorable "Martes de Lotería" together. ¡Nos vemos pronto!
---
Venue
Plaza Mariachi Music City
---
Related Events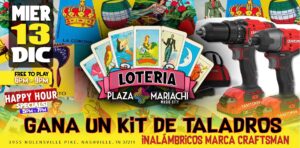 Wednesday, December 13 @ 6pm - 9pm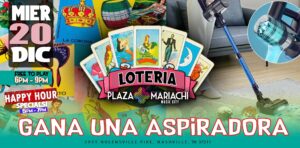 Wednesday, December 20 @ 6pm - 9pm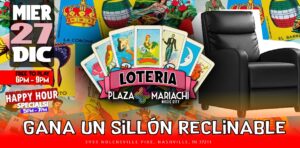 Wednesday, December 27 @ 6pm - 9pm
---