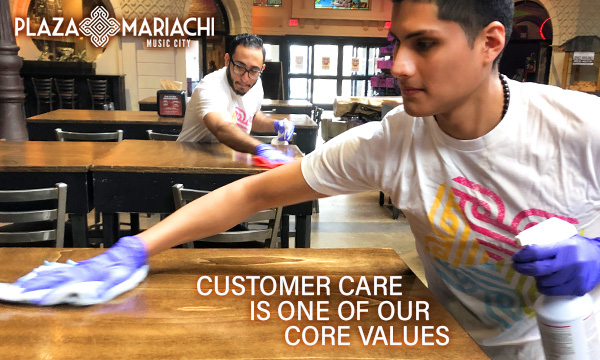 As a valued guest of Plaza Mariachi, we appreciate the trust you place in us and our people when you visit. We are closely monitoring the outbreak of the coronavirus (COVID-19) and wanted to update you on our efforts to protect the health and well-being of our patrons, visiting artists, and staff.
Since the early stages of the outbreak, we have implemented heightened daily disinfection of public and private spaces with a focus on cleaning frequently touched countertops, chairs, dining room tables, and restrooms while also placing hand sanitizers in the dining hall for convenient use.
We have also implemented the following deep cleaning processes:
Using hospital grade surface disinfectant cleaner on all hard surfaces in all public spaces and restrooms.
Provide hand sanitizers that have been installed in heavily trafficked areas of the Plaza.
Cleaning the hard surfaces such as the Food Hall tables and chairs with hospital spray after each meal time.
Tito's Playland will be wiped down multiple times a day with hospital disinfectant.
Kitchens will be cleaned with hospital grade disinfectant as well as all registers and POS systems multiple times a day and especially during busy times of the day.
Food will continue to be handled with gloves and HACCP regulations will continue to be followed at each location.
We are also providing guidance to staff, artists, and guests on the best ways to prevent illness, including:
Wash your hands often with soap and water for 20 seconds. If soap and water are not available, use an alcohol-based hand sanitizer
Avoid touching your eyes, nose, and mouth with unwashed hands
Avoid close contact with people who are ill
Stay home when you are ill
Practice good respiratory etiquette and cover your mouth and nose when coughing or sneezing
If using a tissue, immediately throw the tissue in the garbage and wash your hands
If you don't have a tissue, sneeze or cough into your sleeve or arm
To stay informed and up-to-date with what is happening at Plaza Mariachi, you can watch our
entertainment calendar.
Please remember that the schedule is subject to change.