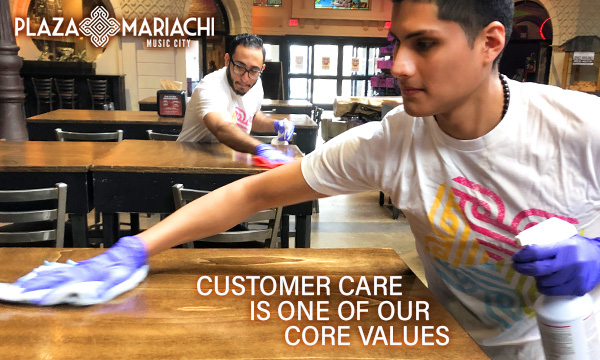 As a valued guest of Plaza Mariachi, we appreciate the trust you place in us and our people when you visit. We are closely monitoring the outbreak of the coronavirus (COVID-19) and wanted to update you on our efforts to protect the health and well-being of our patrons, visiting artists, and staff.
We have the following measures in place to protect our customers and employees.
Employees with a fever or cold and flu-like symptoms such as a cough, sore throat, runny nose or body aches are required to stay at home
Masks and daily temperature testing are now required for all employees
We encourage all guests to wear masks during their visit.
Each table will be cleaned by staff according to CDC guidelines
Regular disinfecting of the common ares, particularly busy locations such as restrooms, seating, dining and play areas
We have directional arrows on the aisles
Encouragement of social distancing practices, including closing half of the tables in the dining area.
The restrooms will have half of the urinals and sinks closed off to encourage social distancing.
The public water fountains are closed.
There is no walk up service available from the bar but beer and cocktails will be available from a server.
Signage reminding guests and employees of safety precautions recommended by the CDC.
Thank you,
Plaza Mariachi Management